Report: Gronk Isn't Healthy And Bucs Officials Believe He's Done
July 13th, 2022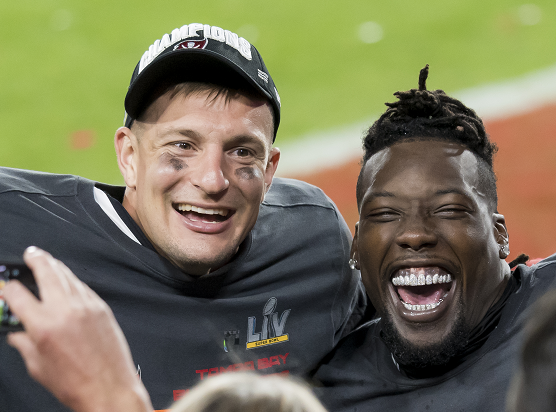 There's been loads of speculation — right here and nationally — that Rob Gronkowski wants to play this season but he wants no part of training camp and doesn't believe his body would hold up under the grind of six-plus months of football.
It's a very different animal to hear that Gronk is not healthy.
But that was the clear message this morning, multiple times, from ESPN NFL reporter Diana Russini during her visit to the Keyshawn, JWill and Max show on ESPN radio.
What made Russini's comments more intriguing was her sharing that she reached out to Bucs officials hours before coming on the air to get their read on Gronk's alleged retirement — after he emphasized yesterday that he's definitely "done with football."
"Gronk isn't healthy," Russini said. "So that's something that plays a big part in why he was able to be so open talking about retirement [on Tuesday]. I did reach out to some people with the Buccaneers organization to just see if they were buying it, and they are. They are. They believe that Gronk really is done. But, I feel like it's important to add that there is a situation where there is some that believe late in the season — and [Tom] Brady gives him a call and Gronk feels good — then maybe that's the situation [Gronk] comes back. …

"… The health thing though, guys, like the health thing is real. Anyone that's close to Gronk that I talk to a lot, it's like, 'He's just not the same; he's not the same guy.' Gronk's not coming back until he feels like he's the elite tight end, the greatest in the game."
Joe is reaching a point of Gronk exhaustion. If he comes back, then that's awesome. But if he's feels banged up and battered six months after the 2021 season ended, as Russini strongly implies, then it's hard to fantasize about his triumphant return later this season.
Joe just hopes the Bucs use their eight-figures of salary cap room to win now. Worry about potentially paying Gronk later.