Derrick Brooks Isn't Buying Gronk's Forever Goodbye
July 13th, 2022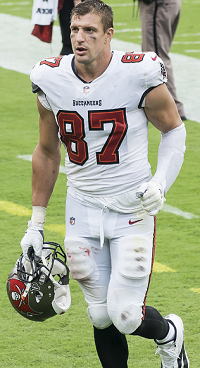 Yeah, yeah, yeah, Rob Gronkowski said again yesterday that he's finished with football.
Joe wouldn't bet a nickel on it, and neither would Buccaneers legend Derrick Brooks.
Before Gronk repeated his claim that he's 100 percent retired, Brooks was a doubter, and today he doubled down on that during his visit to WDAE radio.
After chuckling about how Gronk definitely is retired for now, Brooks suggested a late-season return for Gronk complemented by the Bucs having a significant need in their offense would get Gronk off the couch and eager to talk.
"As I said last week, if there's a window of opportunity that formulates for him to come in and play this role and be successful, I think he'll listen to it. …," Brooks said. "I absolutely think he'll take the phone call, listen and explore it to the fullest. And I only think he'll do that for one team: the Bucs. So yes, I think the window is still open, to be honest with you, because of the success that he's had here with this team."
A Week 12 return was hypothesized by Brooks. That would follow the Bucs' bye week, which is after their Week 10 "home game" in Germany.
All the Gronk speculation is a lot of fun, but Joe would much prefer the Bucs have no need for Gronk after getting a solid veteran replacement into training camp and the guy performing well.