Picking A Bubble Player
July 7th, 2022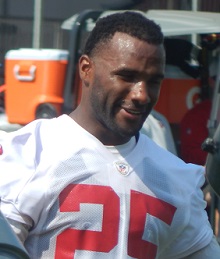 Giovani Bernard better be careful.
So why does the veteran Bucs backup running back have to be worried? Well, BSPN has chosen a player from each NFL team, a veteran, that is in danger of having his bubble popped and being out on the street looking for work in September.
And for Jenna Laine of ESPN, the Bucs veteran that might want to rent is Bernard.
With Leonard Fournette becoming a three-down back, Ke'Shawn Vaughn's improvement and the Bucs selecting Rachaad White in the third round of the NFL draft, where does that leave Bernard? He'll be 31 in November, and he caught 23 passes for 123 yards and had 58 rushing yards on eight carries last year. If White assimilates into the Bucs' system quickly and can consistently pick up a blitz, Bernard could be left out.
Joe doesn't believe Bernard is in danger of getting bounced. When he is healthy and on the active gameday roster, he always finds a way into the game.
If you think about it, Rachaad White basically replaced Ronald Jones. So if the Bucs keep four running backs, Bernard likely is safe.
What Bernard has to worry about is if some camp meat guy or future Geek Squad manager balls out in training camp and preseason. Still, the Bucs are gunning for another Super Bowl. Who do you think Tom Brady prefers blocking for him and catching passes out of the backfield, a veteran like Bernard or some kid from East Cornfield State in his rookie season?
Joe doesn't believe the Bucs will do Brady wrong and stick him with some Dare Ogunbowale-wannabe like they did to Jameis.