JPP Still In Play?
July 15th, 2022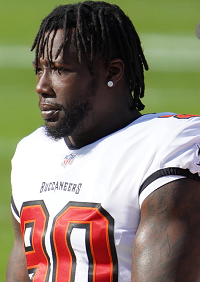 For a couple of reasons, Joe was intrigued when quality veteran edge rusher Justin Houston agreed to re-sign with the Ravens last week for what appears to be about $2.3 million plus incentives.
First, Joe had an eye on Houston as a potential edge rusher for the Bucs to jump into the mix with Shaq Barrett (10 sacks last year), Joe Tryon-Shoyinka (four sacks) and Anthony Nelson (five sacks).
Second, the Ravens brought in free agent and Buccaneer of the past four seasons Jason Pierre-Paul for a free agent visit before signing Houston.
JPP didn't get a deal but he continues to post workout videos on Instagram and it's getting very obvious that he plans to play this season at 33 years old, and that he believes his surgically-repaired shoulder is ready.
Is JPP better than Cam Gill or any of the other no-name edge rushers/outside linebackers the Bucs might keep on the roster this season? Probably.
And would JPP play for Justin Houston money? That could be unlikely.
JPP has earned over $100 million in his career and may not be willing to put his body on the line for only a few million bucks. Keep in mind JPP banked more than $4 million selling one of his mansions early this year.
Former Bucs scout, Jets linebackers coach and Jets personnnel chief Pat Kirwan was barking on SiriusXM NFL Radio this week about how the Bucs appear to be an edge rusher short when it comes to depth, and Kirwan also was skeptical that Tryon-Shoyinka will take a major step up in his play.
JPP isn't a long term answer, but in a season that's all about the now, Joe thinks JPP is worth a long workout at One Buc Palace. What's the harm in a close look?