Jason Licht Says Gronk "Would Be Hard To Turn Down"
July 28th, 2022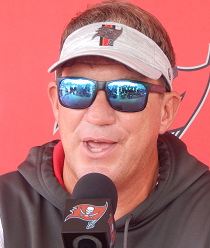 Retired (?) Rob Gronkowski claims he's retired but nobody seems to believe him, not even his girlfriend.
So Joe had to ask Bucs general manager Jason Licht today about Gronk.
Simply stated, Joe asked the GM if the roster is too full for Gronk following the costly signings of former Pro Bowl tight end Kyle Rudolph and legendary Julio Jones.
Licht acknowledged that the door is open — even if there's no longer a greeter there with champagne and a red carpet.
"Well, I don't want to deal with hypotheticals, but we all know Gronk's a hell of a player. It'd be hard to turn down," Licht replied.
Joe assumes Gronk is done, until he's not. Hopefully, the Bucs next signing is Gronk, rather than one filling a need to sign a veteran center to replace injured Ryan Jensen.