"I'm Saying One, But I Reserve The Right To Change My Mind."
July 16th, 2022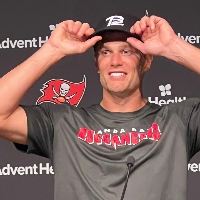 Joe loves when Tom Brady injects more 2023 hope into the veins of Bucs fans from Lakeland to Largo and beyond.
Brady did that in a Variety magazine interview earier this week, but he put a different spin on it during a video shoot for Variety. Joe liked this one better and Brady's body language led biased Joe to feel good about Brady playing in Tampa beyond this season.
Variety magazine interviewer: How many more seasons do you think you're going to be playing professional football?
Tom Brady: Oh, God. Are you my wife? It feels like one of those questions she would ask me. I'm sayin' one, but I reserve the right to change my mind.
Joe still maintains another year of Brady playing (2023) will come down to the state of the Bucs' beastly offensive line and the health of Tampa Bay receivers — far more than who is calling plays, money or what his wife thinks.
After all, there's a lot more travel involved as a FOX analyst than as a Buccaneer.