"He Was Like, 'I'm Not Chasing These Quarterbacks. I'm Chasing M.J.'"
July 18th, 2022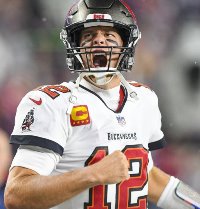 Joe loves how the legend of Tom Brady continues to grow, courtesy of his former teammates who share their stories.
Recently, Joe was catching up on I Am Athlete podcasts and that included chatter from former Bucs running back LeSean "Shady" McCoy, who was a backup on the 2020 Super Bowl team.
The six-time Pro Bowler and the man with the most rushing yards in the 2010s calls it straight when he recounts life with the Bucs. And he told a story of how Brady explained to teammates that his sports goals are beyond the NFL.
"He was like, 'I'm not chasing these quarterbacks. I'm chasing M.J.,'" McCoy said, referring to NBA legend Michael Jordan.

Immediately, McCoy was interrupted by a co-host and was asked if Brady really said that. McCoy emphatically said Brady did.
At the time, Brady had six Super Bowl rings and Jordan had six NBA titles, as did Kareem Abdul-Jabbar. Now Brady has seven rings, so who is he chasing or looking to surpass in 2022?
Joe can't accept that Brady has Robert Horry on his mind, or various ancient NBA legends. But maybe Brady is seeing baseball legends Babe Ruth and Mickey Mantle with seven titles and wanting to put them in the rearview mirror.
Brady is just a very different cat, one-of–a-kind for the ages. Perhaps when Brady's wife famously said to him after the Bucs won the Super Bowl (caught by microphones) "What more do you have to prove?" she was referring to eclipsing Jordan on the total titles list?
Is he near the end? Perhaps. Then again, he may just be getting started.
---
Enjoy Monday's Ira Kaufman Podcast. … …
Ira Kaufman Talks Unique Todd Bowles Pressure, Training Camp Fashion, Altered Prep For Lavonte David, And More