Gronk Dream Isn't Dead
July 21st, 2022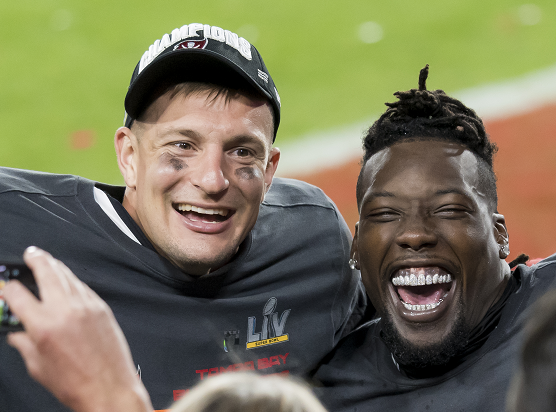 There's a divide at JoeBucsFan.com world headquarters when it comes to (retired?) Rob Gronkowski.
One Joe thinks yesterday's signing of veteran tight end Kyle Rudolph means closing the door on Gronk as he transitions to his new life away from football. The other Joe thinks the Rudolph signing is nothing more than the Bucs adding a declining but capable veteran on the cheap before training camp and the door remains wide open for Gronk.
The contract number for Rudolph isn't public yet, but if it's in the $4 million range (Joe's educated guess), that still leaves the Bucs with a fat pile of salary cap room to bring back Gronk in midseason.
Figure on Gronk earning about $700,000 per regular season game if he were to return. So if Gronk arrived during the bye week after the Bucs' trip to Germany, he would bank about $4.9 million for the final seven games of the season.
Hopefully, the Bucs don't need Gronk. Perhaps Cade Otton will remind fans of another rookie fourth-round pick tight end who thrived with Brady, Aaron Hernandez, and there's a solid chance Rudolph and/or Cameron Brate will play to their capabilities. Also keep in mind the Bucs offense thrived with little tight end production in 2019.
But as long as the Bucs have salary cap room for Gronk and Gronk stays in shape, it's going to be hard for Tom Brady, Jason Licht or anyone else to believe he's 100 percent done.
There might be more unity on the Gronk subject at JoeBucsFan headquarters if Gronk held a retirement news conference in New England or Tampa, or scheduled a huge retirement party to benefit his foundation, or he shed a bunch of weight quickly like he did when he hung it up in 2019.