"Everything You Just Said Right There Is Wrong"
July 12th, 2022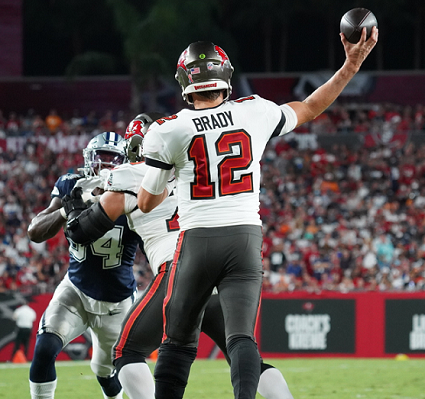 Joe always enjoys when a local Bucs media person gets slapped around/corrected by an NFL insider. It doesn't matter who it is. It's great theater and comedy all in one.
Today it was Rick Stroud of the twice-weekly community newspaper, the Tampa Bay Times.
Stroud visited SiriusXM NFL Radio and explained why he's confident Tom Brady doesn't want to lead the NFL in pass attempts again this season. Brady doesn't want to expose himself to so many potential hits, per Stroud, and running more means help for the defense.
Co-host Charlie Weis, Brady's friend and his former Patriots playcaller, wagged an on-air finger at Stroud and said his take is nonsense.
"[Brady] wants to throw it on every down. So everything you just said right there is wrong," Weis retorted. "Because if he had his druthers, if there are 70 offensive plays, he'd throw it 70 times."
Weis also rejected Stroud's notion that Brady would be more comfortable with Todd Bowles as head coach versus Bucco Bruce Arians. Per Weis, it won't be about comfort, just one less voice in the stew of cooking the offense. Weis believes Bowles will stay hands-off the offense on gamedays.
Joe agrees with Weis wholeheartedly when it comes to Brady wanting to pass, pass and pass some more. That's why he came to Tampa.
Did the Bucs have a running game when Brady arrived? They had Ronald Jones before his breakout season and Leonard Fournette wasn't even an option. And that's it. Brady was eager to jump to the Bucs because of their pass-first mentality and a strong pass-blocking offensive line.
In June, Brady himself noted the Bucs' "very favorable passing conditions," and Joe explained that those who think Brady actually wants to take his foot off the gas aren't thinking everything through.
So yes, feel good about drafting Brady for your fantasy team next month.