Tom Brady Comment A Tipoff To Status Quo
June 13th, 2022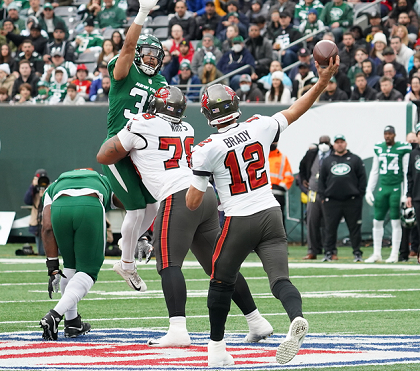 Many astute Bucs observers believe Tampa Bay is going to pound the rock more often this season for three main reasons:
They are, in no particular order, quarterbacks Coach Clyde Christensen has spoken about how the Bucs need a better run game, head coach Todd Bowles is a defensive-minded head coach and they all love to rush the football, and Tom Brady wants to run more like he did in New England.
Joe doesn't buy any of that, but a lot of fans and media do.
(Also tied to the alleged Brady reason is the absence of Bucco Bruce Arians telling Brady he must play no-risk-it-no-biscuit offense. Joe doesn't buy that line, either.)
At Brady's news conference on Thursday, he referenced how the Bucs have "very favorable passing conditions." That came in response to Joe asking Brady about getting injured receiver Russell Gage ready for opening day. Brady responded noting that Gage absolutely must have a strong season because the Bucs paPss a ton and they have those "very favorable passing conditions."
Does that sound like a quarterback expecting the run the ball more? It sure doesn't at JoeBucsFan.com world headquarters.
So Brady believes he has optimal passing conditions — he was the least-sacked quarterback over the past two seasons — and the Bucs are the only team with three receivers earning $10 million or more. Plus, they have depth at receiver and likely a Hall of Fame tight end, plus a rookie running back known for his hands.
Joe would actually wager a little on the Bucs attempting more passes than they did in 2021, when they led the NFL in that department.