Deshaun Watson: Did NFL Plan Ahead For Eight-Game Suspension?
July 20th, 2022
Podcast (toddcast-todd-wright-podcast): Play in new window | Download | Embed
Subscribe: RSS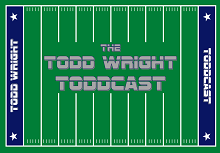 In this episode, Todd offers an opinion on the Cleveland QB's possible punishment and how it may have influenced the 2022 NFL schedule. The Todd Wright TODDcast is presented by Brandon Legal Group and Bill Currie Ford. Click above to listen or to download. Or listen on Stitcher here, Google Podcasts here, and on other platforms.
PRESENTED BY