Freedom Feels Great
July 24th, 2022
BY IRA KAUFMAN
How would I describe my six years working for this organization?
Liberating.
Yes, six Buc seasons have passed since JoeBucsFan hired an unemployed reporter whose newspaper had just folded. After a quarter-century at The Tampa Tribune, I was one of more than 200 employees suddenly cast aside when the paper ceased publication.
Should I retire? Too early.
Should I look for another journalism job in another region? It's not easy to match the Tampa Bay lifestyle.
While I was in limbo, the two overseers of this website approached me with an offer I couldn't refuse. Come join us, they said, and you can write whatever you want. On your podcast, you can say anything you want.
They kept their word.
Six years later, I can't remember a single time when the guys who sign the checks canceled a column or even suggested a certain slant. It was a major change from the Tribune, where my opinions about the Bucs took a backseat to my reporting.
Since coming aboard, I've been accused of being a homer. I've also been accused of being too negative. You know what that means? I'm doing my job.
So much has happened on the Buc beat since the summer of 2016.
Dirk Koetter replaced Lovie Smith and almost led Tampa Bay to the playoffs until back-to-back losses at Dallas and New Orleans spoiled the party. The next season was a disaster as the Buc defense allowed the most yards in the league.
The 2018 season began with Jameis Winston serving a suspension. Ryan Fitzpatrick generated early excitement before fading. It became obvious Koetter wasn't going to make it back for a fourth year and Jason Licht's job also looked precarious until he lured Bruce Arians out of retirement.
Arians was inclined to stick with Winston for 2020 until Winston imploded, costing the Bucs a chance at a 9-7 finish in 2019. Then along came Tom Brady — and everything changed.
Through it all, there was off-field intrigue.
The draft was hit or miss. For every Chris Godwin, there was an O.J. Howard. For every Carlton Davis, there was Vernon Hargreaves. Until Brady arrived, home attendance was an eyesore. There were improvements at Raymond James Stadium and an indoor facility was constructed at One Buc Place.
Through the years, nobody told me what to write. Nobody told me what to say. Instead, I was encouraged to address the issues of the day, regardless of the take.
If you're familiar with some other publications that cover the Bucs, you know that's not always the case. You know playing nice with Buc management is the prime objective with some of these "journalists."
Not on this watch.
There are ways to be critical about a franchise while being fair. And let's face it, there hasn't been much to complain about in these past two seasons. But when you go 12 years without a playoff berth, you're going to draw the heat.
We serve Buc fans on this site, armed with the belief true supporters can stomach the truth. In fact, they relish it. These are good times at JoeBucsFan because interest in this team has been at a peak since No. 12 chose the Bucs over other suitors. More interest means more eyeballs on the site and more listeners to the podcast.
Let the good times roll.
For me, these past six years have been refreshing and invigorating.
Hopefully, you've also enjoyed the ride.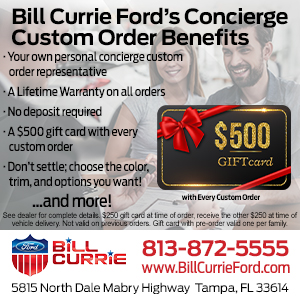 Enjoy this weekend's Ira Kaufman Podcast. Ira talks Kyle Rudolph, training camp changes and a lot more.