Bill Polian: Ndamukong Suh Loss/Return More Important Than Gronk
July 4th, 2022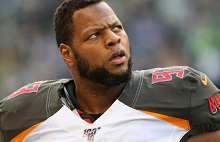 A Hall of Fame general manager who talked to Bucco Bruce Arians nearly every week during the past two seasons might rattle a few Bucs fans with his latest take.
Bill Polian was on SiriusXM NFL Radio last week assessing the Bucs' moves and non-moves in free agency. He's not a Bucs-hater in any way, but Polian has no confidence in defensive tackle manbeast Akiem Hicks. That's who the Bucs paid handsomely to replace Ndamukong Suh.
Suh, 35, wanted to return but the Bucs passed. Hicks will earn about $8 million in his place.
"I don't know, [Hicks] had an awful year with the Bears ending in what amounted to a suspension because he refused to play. Is he Ndamukong Suh? No. I think that they're return to the Super Bowl is dependent on Gronk playing one more year and Suh playing one more year, otherwise they've taken kind of a step back," Polian said.

"But if those two guys come back, particularly Suh — they can get by without Gronk, it's not ideal, but they can get by without Gronk. But Hicks is not Suh in my mind."
For the record, Hicks was not suspended, but he did seemingly quit on his final week of the season after an altercation with a position coach.You can read the NBC report here. Joe's not concerned by that at all, especially with the rebuilding Bears just days away from hiring their new head coach and general manager.
As for Polian, he's a legend, but it feels like he's overvaluaing Suh here in a big way.
Remember, the Bucs won the Super Bowl with Vita Vea missing most of the 2020 season, and Hicks is a major talent when he can stay healthy.
If given a choice, Joe would take Gronk over Suh for the 2022 season in a heartbeat.