"Zero Whatsoever"
June 9th, 2022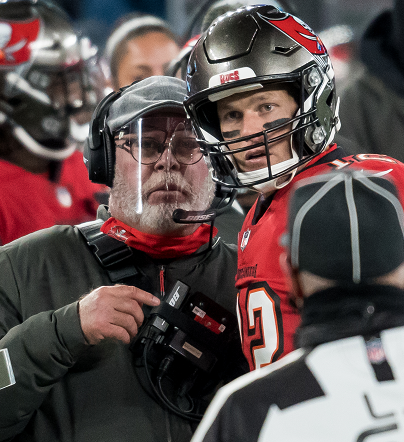 The Sage of Tampa Bay Sports, JoeBucsFan.com columnist Ira Kaufman, pressed Tom Brady today on a subject that set the NFL world on fire for several months, a story that continues to smolder today.
A lot of people believe Brady had a Bucco Bruce Arians problem that was so bad Brady didn't want to play for Arains any longer. Why? According to the story, Arians was undermining the intense and precise pregame planning of Brady and offensive coordinator Byron Leftwich.
It's considered a ridiculous, laughable subject in the halls of One Buc Palace, but for whatever reason Brady didn't go all out to extinguis the fire when it was raging months ago. He sort of admitted that today while being questioned.
Ira Kaufman: Can you clear the air maybe on your relationship with Coach Arians. Was there any substantive issues between you two at the end of the season?

Tom Brady: Zero whatsoever. He and I have a great relationship, and that's part of why I chose here — because of Bruce. He and I have been — incredible communication. And I have great respect for him. He knows how I feel about him. That's the most important thing. And I know how he feels about me. So.

Kaufman: Did those reports bother you, Tom, because they didn't portray you in a flattering light? Some of those reports.

Brady: See, I don't read a lot of them. There's a lot of things that aren't right that are said [in the media]. And I think the thing is – you try and come out and respond to everything that is not right, you know. We don't have to be right very often. We just have to be right every so often these days. Then I think people click on it, then, you know, you read more of it. And obviously they're clicking on it, so it's what people want and what's talked about. It may not be accurate but that's OK. I mean, I don't make every pass either. I don't complete every pass, so I understand not everyone can get it right all of the time.
Brady gave strong answers, though they did not explain why Brady failed to powefully address the Arians rumors at the time. If Brady knew how much fans like to "click on it," then he certainly could have given them plenty to click on with a different message. A TikTok video with Arians displaying their mutual love would have been very powerful, for example.
Regardless, it feels like the Arians-Brady drama is over for now. Joe would wager a few bucks that it re-emerges no later than September in some form.