Legacy Time For Byron Leftwich
June 4th, 2022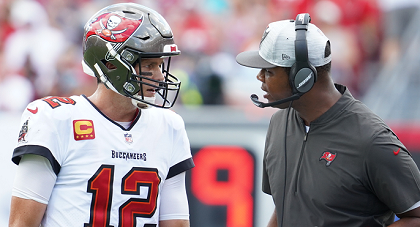 Whether Bucco Bruce Arians used a literal or figurative red pen on the gameplans crafted by Byron Leftwich and Tom Brady is irrelevant at this point.
Millions of people believe it's true.
Legendary receiver Torry Holt buys it, as does former NFL quarterback David Carr. They went there very calmly on NFL Network this week and it was not any form of a hot-take segment.
Holt believes this season, with Arians out of the picture, is a chance for Super Bowl-winning offensive coordinator Leftwich to build on his legacy. Carr said it's natural and appropriate for someone to be in charge (Arians) and make firm calls on pregame game plans, so it's logical for Arians to do that.
Both maintained the show now belongs to Leftwich but Brady can build on his already stellar legacy via the offense getting better without Arians.
That latter point is an interesting one. If somehow the Bucs offense takes a big step backwards this season, Joe has no doubt the national spin will be that Leftwich and Brady were missing Arians' wisdom and guidance.
Yes, Joe knows Arians is employed as a Bucs consultant. But everything sure points to him happy to be working very part-time.