Watching Aaron Donald Work Out, Tom Brady Thinks, "Maybe I Should Have Retired."
June 15th, 2022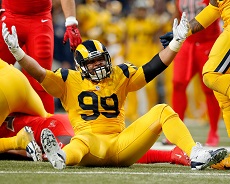 Tom Brady made it clear today that he realizes he's a little crazy for still playing football.
Social media visits have put the 2000 draft pick in a pensive mood. Brady, per his chatter today on The Dan Patrick Show (Joe listened on SiriusXM, Ch. 85), has seen a little too much of a guy that wants to break him in half.
"I think I'm part crazy. I mean I think that's the reality — 45 years old and I'm out here a lot of young guys that are trying to take my head off," Brady said. "And I see Aaron Donald work out on my Instagram and I'm like, 'Damn, maybe I should have retired.' You know (laughs), because he's a beast. But you know, I had the appetite to compete and it's going to be gone soon. I mean there's no doubt about it. And I gotta, you know, really appreciate the time I have left because it's not a lot."
A fun one-liner from Brady, but Joe has no doubt this was a little pre-planned Brady chatter about Donald. Brady surely is every bit as fiery and competitive as Donald, and Brady probably wants to rip a few heads off this season himself (figuratively speaking.)
Also, Joe doesn't think Brady believes he's crazy for still playing. He's got the best offensive line he's ever had, a stable of stud receivers. He'd be crazy not to play this season.