COVID, Rookie And Pregame Leader Tom Brady
June 24th, 2022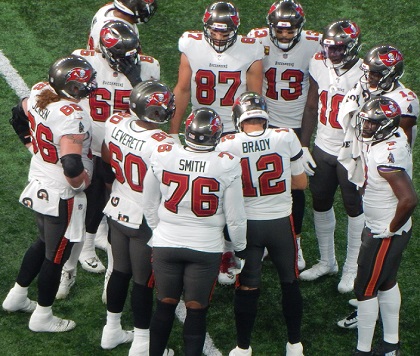 Joe loves Tom Brady storytime.
You know, when his former teammates feel comfortable opening up.
Today it was LeSean "Shady" McCoy.
He joined The Herd on FS1 and was asked to share a nugget on playing alongside Brady with the 2020 Bucs. McCoy first explained that Brady's preparation is unmatched.
"We're playing the Giants, whoever it is. He's played that game 10 times [in his head] before we play it," Shady said of Brady. "It was different for me playing for a quarterback like that because he was so well prepared. And it wasn't just enough for the starters, Mike Evans or Chris Godwin, to be prepared. Nooo, we need the rookies to be prepared the same way as the starters."
Shady went on to reference a Brady-less group player text chat outside of the one Brady was in.
Apparently, Brady would send players offensive players details on defensive players with attached video — multiple minutes of breakdown — and those Bucs players would go offline into their own chat to marvel at Brady's preparation, Shady said. "Yo, do you see this. This dude is so prepared."
Lastly, Shady said when COVID hit in 2020, Brady gathered the team without coaches to lecture them on eliminating partying. And per Shady, Brady told players that they cannot be on the team if they won't adhere to the quarantine rules.
Joe can only imagine how crazy locked in Brady will be this season, if he's already decided this is his final one as a player.
It's been a heck of a week for Tom Brady storytime.
THE ENTIRE Todd Bowles sitdown with the Ira Kaufman Podcast, and more. (Parts I, II & III).