Former Bucs Teammate Talks Shower Coaching Tom Brady
June 23rd, 2022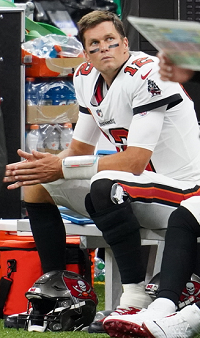 It seems the legend of Tom Brady grows every time a former teammate really opens up about playing with The Goat.
Enter 2020 Bucs veteran backup center A.Q. Shipley, who retired and became a Bucs assistant coach for the 2021 season.
In addition to Brady, Shipley has been on the practice field with a lot of special quarterbacks, including Ben Roethlisberger, Carson Palmer, Andrew Luck, Michael Vick and Joe Flacco. So he's certainly an authority on quarterback preparaton and leadership.
Speaking on SiriusXM NFL Radio this week, Shipley was asked by co-host and Hall of Fame executive Bill Polian to explain how Brady stands out among the stars Shipley has played with.
Yes, Shipley put Brady a hearty cut above the rest.
"I mean I played with a lot of talented quarterbacks. [They] all brought their own thing to the table, right? And what that thing is it's always hard to explain, but it made each of them who they are," Shipley begain. "The one thing that [Brady] had more than everybody is just his relentless ability to prepare. I say time and time again you watch guys prepare during the week and, you know, you hear so many guys once Friday's done, it's like, 'Alright, the hay's in the barn. Now it's time to go play.' And I felt like Friday with him was when he was just getting started.

"It was all day Friday, all morning Saturday, meeting with guys Sunday mornings before the game, all the skill guys. Making sure they're looking over stuff in the locker room before the game. Might even make a change in the locker room. Grab the skill guys; they'd go hop in the back area with the shower, 'Hey, let's change this,' or whatever it may be. It was unbelieveable just to watch him. And I always felt like with his ability to prepare that come gametime it was almost like he had the answers to the test. All he had to do was go execute. He had all the answers. It just came down to him executing at that point."
What a teammate Brady is!
Joe got a good visual there of Brady lining up a bunch of uniformed teammates in a group shower at 3:15 p.m. before a 4 o'clock kickoff and explaining a nuance he saw on film just a few hours earlier.
THE ENTIRE Todd Bowles sitdown with the Ira Kaufman Podcast, and more. (Parts I, II & III).