Thanks For Waiting, Gronk!
June 22nd, 2022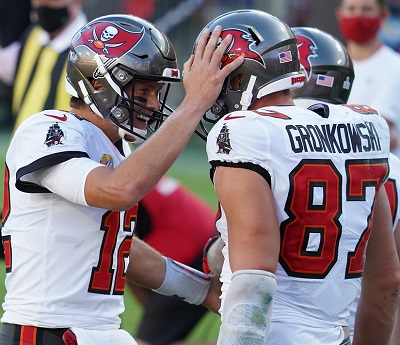 Would Tom Brady have unretired to play for the Bucs if he knew Rob Gronkowski was going to quit?
It's a great question whose answer might never really find its way to Bucs fans. But Joe is so happy Brady didn't have to be put to that test.
Joe thinks it's safe to say Brady didn't know Gronk was retiring when he announced his return in mid-March.
Maybe Brady stays on the couch and heads to the broadcast booth without his tight end security blanket — the pass catcher he most trusts and a guy who delivered 55 catches, 802 yards and 6 touchdowns in just 12 regular-season games last season.
So because of that, Joe is so grateful that Gronk waited until yesterday to announce that he's hanging it up — about 15 minutes before his agent said Gronk might re-join the Bucs in midseason. WTF!
In April, general manager Jason Licht wisely drafted a talented tight end with the first pick of the Round 4, Cade Otton, a guy one seasoned Pac-12 observer believes is a huge 2022 sleeper. And the Bucs grabbed a blocking tight end in Round 6, Ko Kieft, whose shot of making the roster just improved greatly.
Now the question is, how much film is Brady watching of the veteran free agent tight ends on the street, and which one does he like most? Or (see below) does Brady know something fans don't?"
https://t.co/CyD9fgMbX6 pic.twitter.com/LzoNJy5KJv

— Tom Brady (@TomBrady) June 21, 2022