Exploring A Gronkless 2022
May 15th, 2022
BY IRA KAUFMAN
What if he says no thanks?
Suppose Rob Gronkowski says no mas, rebuffing pleas by Tom Brady and the Buc organization to return for one more championship run.
It's not like Gronkowski doesn't have options. He's an audience magnet who would generate tremendous interest from TV executives and big screen producers.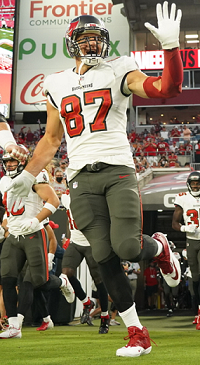 The man is pure box office and at the moment, he's got an entire franchise in a box, trying to nail down a contract for the 2022 season — likely to be Brady's last year as a Buccaneer.
The odds are Gronkowski and Brady already know No. 87 is coming back.
He'll probably waltz into One Buc Place on the first day of training camp and work his way into shape. That would be a banner day for Tampa Bay fans, but it's not a done deal until there's a signature on the dotted line.
As we've learned in the past two years, Brady can be very persuasive. He lured Gronkowski back to the NFL after a one-year absence and sold free agent Russell Gage on the Bucs, despite knowing he'll be the third option at wide receiver once Chris Godwin returns.
Brady's quite the pitchman, but Gronkowski may have other plans. Think about it. If "The Rock" can make a fortune starring in action movies at the age of 50, imagine what kind of loot "The Gronk" can pull from the silver screen at age 33.
And if Gronk chooses a different career path, where does that leave Brady and the Bucs? In full scramble mode, that's where.
Cameron Brate is a nice backup tight end, but he hasn't been a starter since 2016. That's an eternity by NFL standards. The Dirk Koetter era was just getting started, rookie bust Roberto Aguayo was missing field goals and Tampa Bay's leading rusher was Jacquizz Rodgers.
In the past four years, Brate has averaged less than 10 yards per reception. In Gronkowski's last two seasons, his average yards per catch is 14.25. Brate is a willing blocker … Gronkowski is a terrific blocker. Gronkowski's potential absence would probably be felt most significantly in Tampa Bay's running game.
Next up could be rookie Cade Otton, a fourth-round pick who displayed some nice hands and route-running ability at the University of Washington. Otton will need more strength to be an effective blocker at the pro level and the Bucs don't want to immediately rely on a prospect who lasted until Day 3.
Four Name Options
The answer, my friend, is blowing in the winds of available free agents.
Heading that list is a veteran tight end very familiar to Buc fans. At the age of 35, Jared Cook is still out there, wondering if there's a seventh team interested in his services.
The Chargers let him go after one year, but in his two previous seasons, Cook caught 80 passes for 1.209 yards and 16 touchdowns for New Orleans.
Cook was victimized on the game's signature play when the Bucs beat the Saints 30-20 in a divisional-round playoff matchup en route to a championship. New Orleans led 20-13 in the third quarter and seemed to have all the momentum until Drew Brees completed a third-down pass to Cook crossing midfield.
Enter rookie safety Antoine Winfield Jr., who punched the ball out of Cook's grip. Devin White scooped up the fumble, the Bucs drove for the tying score and never looked back.
Kyle Rudolph is still a free agent, along with Eric Ebron, the 10th pick in the 2014 draft. Ebron caught 13 TD passes for Indy in 2018.
The Cowboys just parted ways with Blake Jarwin, who was supposed to be their long-term answer at tight end.
All three are trying to rebound from serious injuries.
Had Gronkowski announced his retirement right after the season, the Bucs might have made a move for Zach Ertz, who ended up re-signing with Arizona. Mike Gesicki (Miami), Dalton Schultz (Dallas) and David Njoki (Cleveland) were all franchised.
Ten weeks away from the start of training camp, the Bucs say they remain uncertain about Gronkowski's status. His impact as a red-zone target and fierce blocker is difficult to overstate. He loves football and he loves playing with No. 12, so he'll probably be back.
Probably.