Night/Stadium Practice Changes For Bruce Arians, Todd Bowles
June 29th, 2022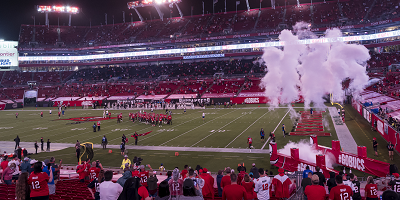 Joe always loved the training camp night practices at the Stadium on Dale Mabry Highway.
Tens of thousands of fans, room to sit and relax, post-practice fireworks and more, it was great fun.
Bucco Bruce Arians' teams in Arizona had the annual "Red & White Practice" in the Cardinals' dome as part of training camp, but stadium night practices disappeared for Arians when he got to Tampa.
Through his four years as Jets head coach, Todd Bowles led the "Green & White Scrimmage" practice during Jets camp at MetLife Stadium or at Rutgers University. But like Arians, Bowles has no stadium practice scheduled this year on the dates released by the Bucs.
That really disappointed Joe, especially after Donovan Smith said the Bucs, under Bowles, primarily only practice on one field versus multiple fields during the Arians years.
Joe suspects the power players at One Buc Palace would say coaches prefer not practicing on a single stadium field with a tight sideline because it's so limiting. And it is. So does that mean Arians and Bowles were bullied into stadium practices by the Cardinals' and Jets' management? That's possible, but it's certainly very hard to believe when it comes to Arians.
The Steelers have their annual "Friday Night Lights" training camp practice with Mike Tomlin, and the Bills and other quality franchises have night practices, too, like "Packers Family Night" at Lambeau Field.
Joe is all about winning being most important. So if no stadium night practice is the Bucs' new good-luck move or there's a strategic advantage, then Joe is all for it. Still, Joe will hope a night practice comes back to Tampa next year. There's no reason it should affect team success and it's a great event for the fans.