If Russell Gage Is On The Field, Look For Him To Blow Up Early
June 29th, 2022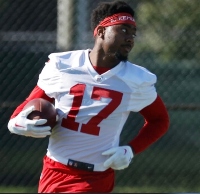 This Joe typing this here article doesn't do fantasy football. Nothing against it at all, but fantasy football is not real football, no more complex than that. This same Joe he may know the secret to fantasy football, however.
Fantasy football is like the stock market. You always are on the lookout for a sleeper stock (with a cheap price) to blow up. Guys who play fantasy football are looking for a sleeper they can draft late to blow up.
That player this fall could be Bucs receiver Russell Gage. Why does Joe type that? Well, because Adam Rank of NFL.com notes that Tom Brady has always had success with slot receivers, whether it is Julian Edelman or Chris Godwin.
Brady was talking Gage — a free-agent signee from the Falcons — up recently, saying he's going to need to have a huge season. And it's easy to see how well Tom has done over the years with receivers who can do damage in the slot. There's Wes Welker and Julian Edelman, to name a couple. One wouldn't have to connect random dots to suggest Gage has the potential for a big year. I know a lot of the fantasy heads loved Gage in Atlanta last year, and you should get on board with him. He has notched 90-plus targets in consecutive seasons. He caught four touchdown passes in each of those years. Dude is ready for a big role.
There is a major factor here Rank is missing, one that would boost his belief that Gage will blow up playing slot and it really doesn't involve Brady.
Bryon Leftwich's offense emphasizes the slot receiver. So naturally, a specific position highlighted by an offense is going to get yards and stats. Throw in that Brady likes to throw to that position and Gage may well have one of his best seasons of his career, and perhaps make a lot of fantasy football players a bunch of Big Storm beer money.