Gronk Was Wowing Bucs Players In 2012
June 22nd, 2022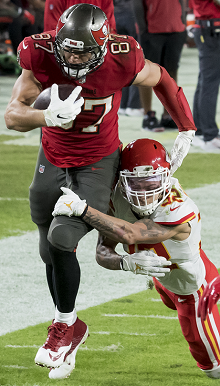 As Bucs fans slump their shoulders at the news of Rob Gronkowski's retirement, one Tampa Bay fan, a former Bucs great, is remembering the greatness Gronk brought to Tampa — 10 years ago.
Six-time Bucs Pro Bowler Gerald McCoy was a guest host on SiriusXM NFL Radio last night and there he talked to co-host Alex Marvez how Gronk's work ethic and work rate was legendary around the league very early in his career.
"We practiced against him in 2012 and 2013 and we couldn't stop him," McCoy reflected on Gronk. "We couldn't stop him then. It was training camp. They came to Tampa in 2012; it was hot, extremely hot. They [could have] been practicing in New England, you would have never known because, I mean, he was going nonstop. He was going nonstop. He would drop a pass or make a mistake, you could see how much it bothered him. Granted, Brady was yelling at him (laughs) but you could see it still bothered him. He was just a joy to watch."
McCoy and Gronk were members of the 2010 draft class and McCoy noted how Gronk's energy at a rookie symposium was constantly electric.
Reflecting further on Gronk's greatness, McCoy said Gronk easily could have been a successful tackle if he had chosen to add weight and make that move. That's something McCoy said he can't say about other great tight ends.
Enjoy the latest Ira Kaufman Podcast!