Gerald McCoy Says Bucs GM Used To Consult With Him On Draft Picks, Free Agents
June 16th, 2022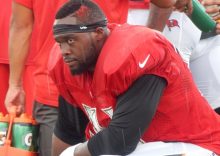 Joe loves Buccaneers history and various historical nuggets that fall from the sky years after the fact.
Six-time Bucs Pro Bowl defensive tackle Gerald McCoy delivered one of those goodies this week during a trip to the set of The Herd.
McCoy is a free agent waiting for a phone call, he said, but in the meantime he's having fun doing media analysis and interviews. (McCoy was fantastic on SiriusXM NFL Radio before the 2022 draft. Joe thinks he's better on radio than TV.)
While chatting with The Herd host Colin Cowherd, McCoy was hit with the topic of player empowerment when it comes to personnel.
McCoy is all for it, and he noted that the Bucs regularly sought his opinion on personnel.
"When I was with the Bucs, when we would bring people in, the GM would call me, 'Hey, we're thinking about getting this guy, we're thinking about getting this guy, we're thinking about drafting this guy.' [McCoy would reply] 'Yeah, I like him. Yeah, I don't know I like him,' McCoy said. "I think you should just do that with your guys. They've earned that right."
No, McCoy didn't specify which Bucs general manager wanted his take on new players: Mark Dominik, the boss during McCoy's first four seasons, or current GM Jason Licht, who was with McCoy for six years. Perhaps it was both?
Joe gets why a GM would seek a top player's take on potential roster moves, but it is a bit of a slippery slope.
If you go there and consistently don't roll with the player's opinion, then that could backfire. It's also unrealistic to reach out to all top players when your roster is loaded with talent like the Bucs have had the past few years.
Joe wonders how much weight the mystery Bucs GM(s) gave to McCoy's opinion.