Former Gronk Teammate: He Could Be Game-Ready For The Bucs In Three Weeks
June 24th, 2022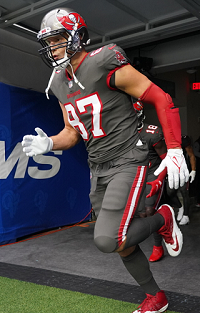 There's lots of chatter out there about retired (?) Rob Gronkowski re-signing with the Bucs later this season after a call from Tom Brady or, presumably, following a more lucrative offer from general manager Jason Licht.
If money is the issue, Joe sure hopes Team Glazer and Licht man up and give their new head coach all the valuable pieces they can. And yeah, Gronk is valuable and irreplaceable.
Last night on SiriusXM NFL Radio, Hall of Fame general manager Bill Polian proposed a hypothetical to guest A.Q. Shipley, a Bucs center in 2020 and a Tampa Bay assistant coach last year.
Polian's premise was simple: Could Gronk come three weeks late to training camp, skip contact in practice, play a little in one preseason game and be ready to roll in Week 1?
The cerebral Shipley paused and then concluded that Gronk absolutely could do that successfully.
Shipley played a season in Arizona for Kliff Kingsbury, who Shipley said completely reshaped his opinion on the value of training camp practice.
Nearly everthing about Kingsbury's training camp was about keeping players healthy, fresh and mentally sharp, per Shipley, not grinding on the field to get in shape.
"A lot more walk-throughs [with Kingsbury], you're not banging the whole training camp," Shipley said. "You're not going through 9-on-7 and going into another team period and going into scrimmages and stuff like that. It was a lot more walk-throughs, a lot more mental reps and keeping the body fresh. I felt just as good playing in that system under that regime as I did, you know, playing in my first training camp in with Coach [Mike] Tomlin in Pittsburgh [under] the old CBA and just grinding two-a-days."
Shipley applied that experience to Gronk and noted that Gronk is so sharp mentally within the Bucs offense, and has seen it all during his career, that he would need little August time to be ready for opening day.
"He might be a little rusty Week 1, but he would be ready Week 2 and moving forward." Shipley said of Gronk.
What Shipley didn't say, but didn't have to, is that Todd Bowles' training camp will be a lot more old school than Arizona's, with plenty of banging and live-in-the-trenches action in the heat.