Feeling For Chris Godwin
June 30th, 2022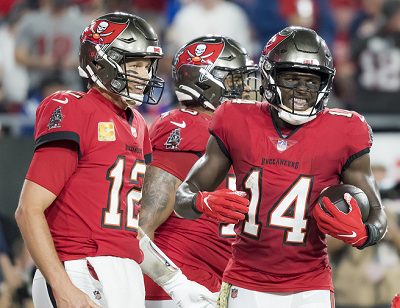 One of the greatest quarterback competitors in NFL history (not player, "competitor"), also a former Tom Brady teammate, served up a different and compelling take on the quitting of Antonio Brown last season.
It's an angle Joe hadn't considered. And it's no surprise that it came from Doug Flutie, who was a 43-year-old backup quarterback to Brady during the 2005 season.
If you don't know Flutie's background, Joe will spare you the history lesson, but he was an 11th-round pick of the Bears in 1986. At 5-9 and 1/4-inch, he was deemed too short to play QB. He lasted 20 years in professional football.
Flutie's reaction to Brown quitting against the Jets and doing jumping jacks to exit MetLife stadium was all about Chris Godwin. Yes, Chris Godwin.
Flutie, via the Flutie Flakescast on SiriusXM, was envisioning and projecting Godwin's reaction and pain to Brown's nonsense. In Flutie's mind, it was absolutely killing Godwin to be the kind of competitor who would do anything to play through his injury — yet his teammate and fellow receiver quit at the most critical point in the season.
Joe thinks that's a great take. Godwin may have been more frustrated by Brown — and angered — than anyone on the Bucs' roster. Godwin blew his knee out in December and hasn't been available to the media since.
Joe looks forward to hearing Godwin's reaction/reflection to the Brown mess, which Joe believes was the critical blow to Tampa Bay's Super Bowl dreams last season.