A Pair Of Deuces For Tom Brady
June 30th, 2022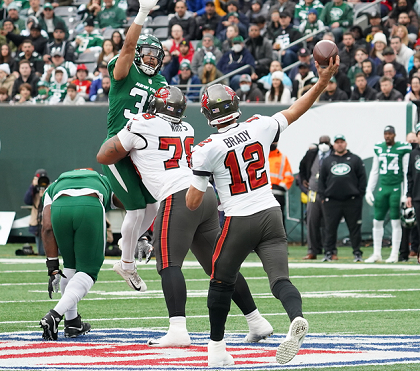 No, the headline is not a Texas Hold'em reference.
In the mind of a longtime NFL executive very familiar to Bucs fans, Tom Brady gets a couple of impressive No. 2 rankings.
Nowadays, former Bucs rock star general manager Mark Dominik is the SiriusXM NFL Radio draft guru and a frequent co-host. He's very good at his gig, reasoned and seasoned, and free of hot takes and goofy hyperbole.
Yeah, Joe realizes lots of Bucs fans think Dominik is clueless, but those are the same people who say things like, "What does that analyst know, he only played five years in the NFL and was barely an average right tackle?"
Dominik's latest on-air exercise came during a two-hour edition of Late Hits last night. He broke down a ranking of every projected NFL starting quarterback.
Thankfully, Dominik hasn't lost his mind like some media guys and he ranked Tom Brady as the second-best quarterback in the NFL behind Patrick Mahomes and a notch ahead of Aaron Rodgers.
Josh Allen took Dominik's No. 4 ranking. Jameis Winston of the Slimy Saints was No. 22 overall.
Dominik said Brady in the No. 2 spot was only fair after he had arguably the second-best season of his entire life (2007 being the best). Only the looming presence of "Father Time" coming back for another round to fight Brady put him at No. 2.
The competitiveness and leadership impact of Brady combined with his stats and make putting him behind Mahomes a no-brainer, per Dominik.
Joe agrees and, yes, Joe would have voted Brady for MVP over Rodgers last season.