Devin White Ranks Top-10 In His Draft Class
June 13th, 2022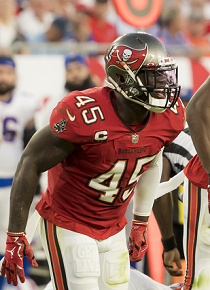 NFL types and former NFL types cringe or holler when folks grade draft classes before Mr. Irrelevant is selected. But that's just our society. Suck it up. You make good money. Relax.
But the NFL types have good reason to get irked by early grades of a draft class. They don't want a draft evaluated for at least three years.
Bucky Brooks of NFL.com agrees. Brooks decided to go through the 2019 draft to see who is the best. Brooks has Bucs inside linebacker Devin White at No. 8.
The tackling machine has been the centerpiece of a Buccaneers defense that has overwhelmed opponents with an array of blitzes. White's sideline-to-sideline range and his big-hit mentality have helped Todd Bowles create a unit that leads to sleepless nights for offensive coordinators and quarterbacks around the league. With White averaging 120 tackles per season while also flashing A+ skills as a second-level sack specialist, the Bucs have built a scheme around a unicorn in the middle of their defense.
The only downside to White's defense is his pass defense. This is a sensitive subject for White but it doesn't matter. If White has a crack in his ship's hull, it is his pass coverage.
So how much does White need to improve? Well, from what Joe sees White as good on man coverage, but he could use work in zone coverage. Per Pro Football Reference, White allows 82.1 percent of passes completed when his man is targeted. On face value that is really ugly.
But is it?
It seems many NFL analysts believe Eric Kendricks of Minnesota is arguably one of the game's best coverage linebackers. Yet he allows 74.1 percent of the passes targeting his man to be completed. Perhaps linebackers are not supposed to be so good in pass coverage? Or at least inside linebackers?
After learning of Kendricks' numbers, a man thought to be a strong pass defender, it got Joe wondering: Is White really that awful in pass coverage?