Bucs Win Another Customer Service Super Bowl
June 24th, 2022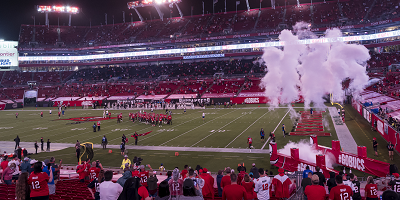 The Bucs are a fascinating organization. The team that once delivered TV blackouts to local fans, the same team that has closed training camp to fans without season tickets, is the unquestioned NFL leader in customer service.
Yes, our beloved Bucs have won the NFL's Super Bowl of customer service again, for the eighth time in the past 10 years.
Joe has written about this in past years, but it's always worth mentioning when the stunning honor comes from the NFL. After all, it's a title that tabs the Bucs as best in the business when it comes to serving their season ticket holders (aka season pass members).
The "W" is acknolwedged via the 2021 Voice of the Fan report, an annual NFL study of fans' opinions of their experience as season ticket customers, as well as at the stadium on gamedays.
The NFL surveys thousands of fans across the league. The Bucs even ranked No. 1 overall in stadium technology! Take that, Jerry's World!
Tampa Bay also grabbed this customer-satisfaction title in 2012, 2013, 2015, 2016, 2018, 2019 and 2020. It's beyond impressive, and it shows how the organization adapted last year with with many thousands more season ticket holders, higher prices, and many more actual bodies in the seats and at the concession stands.
There's a ton of brilliance and savvy behind the Buccaneers' customer service machine. It's undeniable.
So it gives Joe hope that their team of experts will emerge from a conference room and announce a plan to creatively squeeze some average Joe fans (non-season-pass-holders) into training camp — this year or next.
And yes, Bucccaneers season tickets are still available for this season in various price ranges.