Bucs Training Camp Dates Released: General Public Locked Out Again
June 23rd, 2022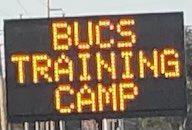 Since the Bucs won the Super Bowl in February 2021, the team has sent a clear and unmistakable message to loyal fans who stuck with the club through the awful Lost Decade:
Unless you own season tickets, you are not welcome at training camp.
The Bucs have released their 2022 training camp schedule and for the second straight year, unless you cough up cash for season tickets, stay home!
The Bucs have 12 practices scheduled that will be open to "Krewe Members and special guests" but none to the general public.
What is a "Krewe Member" you ask? Per the Bucs' website, someone who buys season tickets.
So if you are not a Bucs season ticket holder or a member of a special group, stay away. The Bucs don't want the unwashed soiling their house.
(If anyone from the Bucs is triggered by this — and Joe knows you read this site — feel free to call Joe so he can explain to the fans who are not season ticket holders why they are considered lower class fans in the team's eyes.)
For those that do own season tickets, below is the training camp practice schedule. The first padded practice is expected to be Aug  1.