Bears Deserve Two Thank Yous For Akiem Hicks Landing In Tampa
June 10th, 2022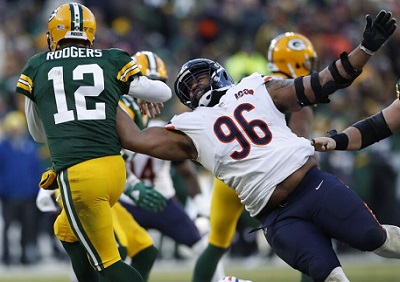 Manbeast defensive tackle Akiem Hicks coming to the Bucs after six seasons in Chicago wasn't just about a rebuilding team not wanting him back and Tampa Bay general manager Jason Licht and Todd Bowles sizing up his value.
Bowles had a prior connection to Hicks. This was revealed yesterday when the head coach sat down for a chat on the Ira Kaufman Podcast.
(Part I of the interview can be found via the link. In Part II airing next week, Bowles talks about Hicks.)
Bowles explained that he was a huge fan of Hicks' play from watching him on Sundays — "always in the backfield." But there was more to it. Bowles was a candidate for the Bears' defensive coordinator position in 2019, after he was fired from the Jets and before he committed to join Bucco Bruce Arians in Tampa.
Per Bowles, Hicks called him three years ago as part of a Bears recruitment effort, so there they connected there in addition to Bowles having studied the Chicago defense as a potential coordinator candidate.
That's certainly an uncommon happening: a player who once called a coaching candidate to sign with his team finding the shoe on the other foot three years later.
Bowles had plenty more to say about Hicks and why he's a fit. Stay tuned for the next podcast episode.
Enjoy the full episode below. Part II with the head coach will pop early next week.