"Keep Playing, Tom."
June 13th, 2022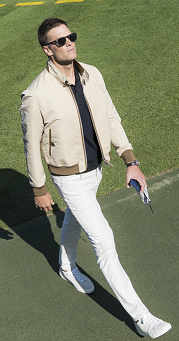 A Super Bowl quarterback who spent 17 years in the Sunday Night Football booth has firm words of advice for Tom Brady.
Hopefully, Brady pays attention.
Joe Theismann, the former Redskins legend and Pro Bowler, was on CBS Sports Radio last week saying Brady should keep playing and avoid his waiting FOX broadcast job as long as he can still play.
Hey, Theismann should be a guy Brady respects. He worked in the network broadcasting world before he even retired from the NFL, and he was extremely successful in the job.
"First of all, I'd say, 'Keep playing, Tom,'" Theismann began. "Just keep on playing because whatever you faced on the field, it'll be different once you go in the booth. You have three hours, roughly, to communicate the game to people. I don't think he's ever really worked in that environment. Like everything else, there's a transition period. … Let's say he leaves the game at 45. Do we expect Tom Brady at 55, or at 50, to still be in the booth? I don't know. I wish him a lot of luck. He's extremely intelligent about the game, has terrific communication skills."
Joe has made a similar point when it comes to Brady sticking out his reported 10-year, $375 million contract with FOX. Joe would wager that Brady doesn't last five years traveling 20-plus long weekends a year. Plus, it's a seven-days-a-week job for a guy who claims he is yearning to be a family man, in addition to his many business interests.
Theismann went on to say the routine of the game analyst will be a huge transition for Brady and it will take real work for him to develop chemistry with a play-by-play man.
Theismann is right. "Keep playing, Tom."