Vita Vea Felt He Was Needed At OTAs
May 17th, 2022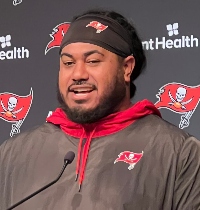 Today was the first day of voluntary OTAs underwear football practice. Key word there is "voluntary."
Veterans didn't have to be there. While there were a bunch there, several were not. Tom Brady, Mike Evans, Playoff Lenny and Donovan Smith were among those not attending.
One guy there was Vita Vea. And Vea was asked why he showed up. He gave off the vibe that he felt responsible to attend.
"It is one of those things [to] come in and be together as our group," Vea said. "We've got a real young group. Young guys that we have to get together on the field and off the field. Get that comradrie going."
Is this a sign of guys stepping up without Ndamukong Suh to replace one of the defensive line's leaders? Sure seems that way to Joe.
But as you will hear later this week from famed JoeBucsFan.com columnist Ira Kaufman on his podcast, Vea's action says a lot about the character of players Bucs AC/DC-loving general manager Jason Licht has cobbled together.
Class move there by Vea. Thinking of the team.