Tough Opening Isn't So Tough
May 15th, 2022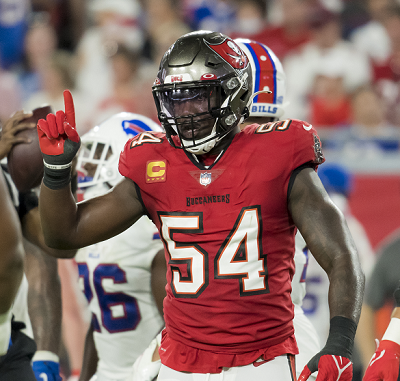 The dissection of the Buccaneers' challenging schedule drew a lot of attention from the national experts.
Joe has listened to much of the scrutiny and a lot of it concludes that the Bucs' brutal opening slate — at Dallas, at New Orleans and home for Green Bay and Kansas City — isn't as ugly as it sounds.
Former Bucs defensive tackle Booger McFarland was barking on ESPN TV about how the Bucs are a more talented football team than Dallas, and how the searing heat of Tampa in late September is the worst possible spot for Aaron Rodgers and a Green Bay offense that will need more time to be clicking with new targets.
Ex-GM Mike Tannenbaum isn't seeing the Bucs in trouble early on paper, noting that Dallas and Green Bay will be late-blooming teams because of roster changes and injuries on their offense.
Joe will add that it's unclear how much rust will be on America's Quarterback, Jameis Winston, as he tries to come back from knee surgery (ACL). He'll be just 10 months out from under the knife when the Bucs head to the Saints.
The timing of the Bucs' schedule indeed smells good for Tampa Bay. Tannenbaum added that the Bucs offense should go from good to great when Chris Godwin returns later in the season, which is an ideal scenario for the Bucs to get easier stretches in their schedule.
Joe tuned into Dallas sports radio on Friday, and the Bucs are not the team Dallas-loving media and fans wanted on opening day.
Remember, in last year's Bucs-Cowboys matchup, Amari Cooper racked up 13 catches for 139 yards and 2 touchdowns, and Michael Gallup added four receptions.
Cooper is now on the Browns and Gallup won't be back from a knee injury on opening day.
If the Bucs are the hit-the-ground-running stud team they should be, they'll find their way to at least a 3-1 start. Opening 2-2 might be acceptable, depending on how the games look.
Joe is not writing off 4-0.