Tom Brady Rattled NFL Schedule Makers
May 9th, 2022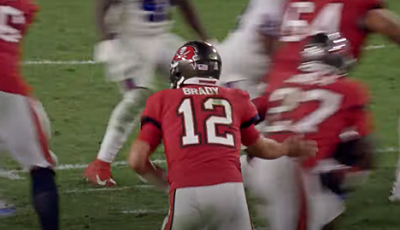 The complete 2022 NFL schedule will be released on Thursday and Joe is fired up. It's like a happy national holiday!
The NFL has teams of computer programmers working on finding a schedule that sufficiently and equally annoys every team.
Sam Farmer of the Los Angeles Times got access to the schedule-making kings and penned a feature behind the newspaper's pay wall. Joe was interested in a few nuggets.
As Joe has been told by Bucs officials in past years, the team spits out a handful of requests to the NFL for dates they want to be at home or on the road. Or when they want to face a specific opponent. It's a common practice around the league.
The NFL takes every request seriously but leaves just about every team unhappy on some level.
"So every time a team sends us a request and says, `Hey, can you put us on the road in Week 2, we've got Elton John or Lady Gaga,' you think, `Yeah, sure,'" NFL scheduling czar Michael North said, referring to concerts at stadiums. "One week for them shouldn't be an issue for the league office, right? Just block it out.

"But then the team says, `Don't ruin our schedule as a result. We still want to open at home. Just put us on the road in Week 2 and we'll come home again in Week 3.' But if 16 clubs have similar asks, that becomes a pretty big constraint on a pretty challenging puzzle which is only getting harder."
The NFL considers matchups to maximize TV revenue while maintaining a balance of fairness.
For example, Denver now has Russell Wilson and Matt Ryan is in Indianapolis. Those icons of their former franchises will draw big numbers in their former cities. So the NFL isn't going to want to schedule the Seahawks' opening game when Denver is playing.
NFL broadcasting chief Howard Katz told Farmer that the Bucs have been a wild card and a league priority.
"When Tom Brady retired, we were concerned about the strength of the NFC package because there were so many terrific Tampa Bay games we were looking at," Katz said.
"Then a month later he un-retires and we sort of started all over again."
Joe wonders what requests the Bucs have made to the NFL?
Joe strongly suspects (for reasons that Joe will keep private today) the Bucs have asked to host one of the three Christmas Day games in Tampa. Also, look for Tampa Bay to want to open on the road, as the University of South Florida plays a home game at The Licht House on each Saturday before NFL opening Sunday (Sept. 11.)