Tom Brady, Leonard Fournette Ramping Up The Heat On Rob Gronkowski
May 16th, 2022
Will he or won't he? That is the question with indecisive free agent Bucs foot-rubbing tight end Rob Gronkowski.
On Friday, Bucs coach Todd Bowles was asked if he had any update on Gronk . Bowles said he had not received any update at all. "Status quo" is how Bowles described it.
That was the day before Gronk's 33rd birthday. He got social media well-wishes from all sorts of people including Tom Brady and Playoff Lenny. And both decided to use the opportunity to nudge Gronk back into playing for the Bucs.
Brady put out on his Instagram stories' feed, "Getting bored yet?"
 "I'm waiting on you," Playoff Lenny said on his Instagram stories feed.
A little slice of background: Bucs veterans hit the practice fields of One Buc Palace this week for the start of their voluntary OTA underwear football practices.
So yesterday, the day after his birthday, Playoff Lenny asked on Instagram how many folks would be wearing No. 7 jerseys at Bucs games. Gronk got the social media world freaked out when he replied to Playoff Lenny that he will "represent" Playoff Lenny wearing a No. 7 jersey "in the stands."
Uh, oh.
But remember, this is Gronk here. It's difficult to take anything he says seriously and Joe types that with all due respect.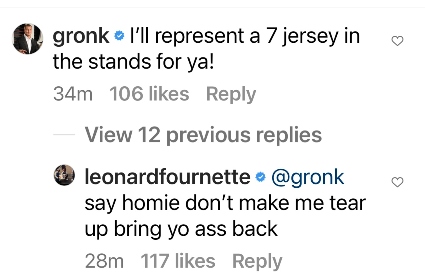 If you still want to try to connect dots, consider that Gronk's Sports Illustrated Swimsuit Issue covergirl girlfriend Camille Kostek posted birthday wishes on her Instagram stories for her man. Interestingly, she chose a photo of Gronk at Bucs practice. Kostek also added the emojis of someone drooling and a heart. Have fun deciphering that.
Joe will only say Kostek is likely the lone person who has an idea what Gronk will do this fall.
Joe still maintains Gronk doesn't want to go through training camp. And Joe cannot blame him.