Tom Brady Leads NFL Merch Sales; Gronk, Mike Evans In Top 50
May 5th, 2022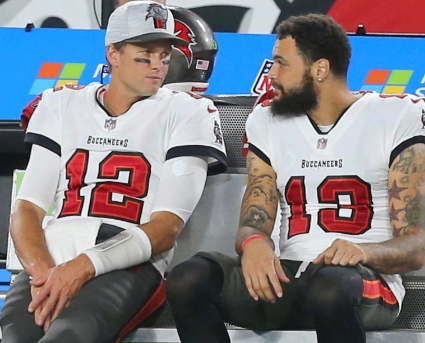 That beloved Buccaneers logo has been circulating quite a bit.
The NFL Players Association tracks sales of officially licensed merchandise and has tabulated which player's gear was sold most from March 1, 2021 through February 28, 2022.
And the winner is? Tom Brady.
Brady's good buddy Rob Gronkowski ranked No. 34 on the list, wedged below former Packers receiver Davante Adams and above Eagles quarterback Jalen Hurts.
The greatest receiver in Bucs history, Mike Evans, made the cut at No. 48 overall, behind receiver Amari Cooper and ahead of Raiders QB Derek Carr. As expected, 22 of the 50 top sellers are quarterbacks. No, Jameis Winston isn't among them.
No wonder Team Glazer is so often seen smiling these days.