Tom Brady Attends Bucs' Tuesday Practice
May 11th, 2022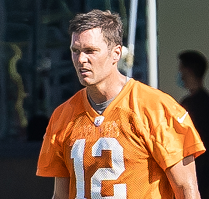 After listening to offensive coordinator Byron Leftwich yesterday at One Buc Palace, you would have felt comfortable wagering that Tom Brady would not attend spring practices, aka OTAs, this year.
"I don't need to see him," Leftwich said when asked if Brady will be working with the team through OTAs and minicamp. "We'll be fine if he participates or not."
Fair point by Leftwich. But today FOX-13 reporter/anchor Kevin O'Donnell was scrolling through OTA pictures on the Buccaneers' official website and Tweeted the gem below. It's Brady at practice wearing what looks like a playsheet on his left forearm. And based on the background, it appears he's on the grass with backup quarterback's Blaine Gabbert's head over his left shoulder.
Perhaps Brady was just playing coach for a day, but he clearly was there and putting forth effort. The Bucs posted other photos of Brady throwing.
Why Leftwich acted like Brady wasn't showing up for voluntary work is unclear — as are most things that have to do with Brady.
Tom Brady is back with the Bucs. Going through OTA's for the first time. His pictures posted on https://t.co/HzFAqJwYbb pic.twitter.com/LbFRhwHta8

— Kevin ODonnell Fox13 (@ODonnellFox13) May 11, 2022