Remember The 2022 Hula Bowl? Of Course You Don't.
May 11th, 2022
Podcast (toddcast-todd-wright-podcast): Play in new window | Download | Embed
Subscribe: RSS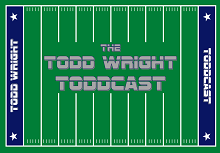 In this edition of The Todd Wright TODDcast, Todd pulls back the curtain on how being honest, accurate and having ethics can somehow be a bad thing in the media. The Todd Wright TODDcast is presented by Brandon Legal Group and Bill Currie Ford. Click above to listen or to download. Or listen on Stitcher here, Google Podcasts here, and on other platforms.
PRESENTED BY