Todd Bowles' Describes Bruce Arians' Gift
May 6th, 2022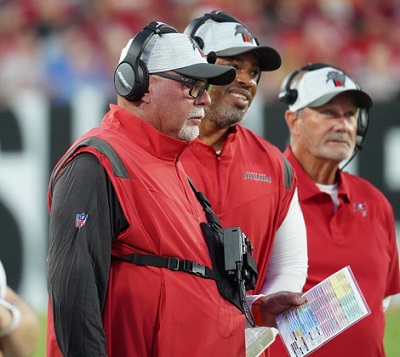 Lots of Bucs fans write off the leadership and coaching acumen of Bucco Bruce Arians and think Tampa Bay won't miss a beat with Todd Bowles.
Joe sure hopes they're right.
However, Arians is the greatest coach in Bucs history and is leaving the team on a 22-5 run includes a Super Bowl win. It was no accident. And Joe does not discount Arians' role in that historic level of greatness.
Bowles was a visitor to The Herd on FS1 this week and was asked to reflect on coaching for Arians, Bill Parcells and Andy Reid. Host Colin Cowherd asked Bowles what Arians' gift is.
"His gift was he knew how to coach the coaches without asking them questions," Bowles began. "He knew what they needed when they needed it just by feel and understanding how they are and what they do. And he had a very innate feel of coaching the coaches by just talking to them. I don't know how to describe that, but his intelligence, his foresight, his understanding of the person, whether they were coaching something difficult or something small or giving advice or suggestions. He had a very good knack for that and I don't think you can just teach that."
Interesting answer by Bowles. During his Tampa days, Arians often talked about how he no longer wanted to coach the coaches. So that's a big reason why he only stuck with assistants he knew or trusted through past experiences or connections.
Regardless, Arians clearly knew how to handle a big staff, and knew how to let them breathe and execute while he maintained a commanding CEO-style presence.
Bowles is going much more hands on in his approach to being head coach, and it's unclear whether he can duplicate Arians' success when it came to getting the most out of coaches. It's not like Bowles planted a blossoming coaching tree during his days with the Jets.
Hopefully, Bowles is up to making every Bucs fan agree that losing Arians to retirement is no big deal.