"Still Explosive"
May 26th, 2022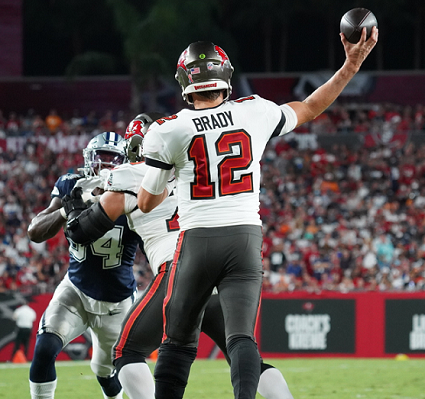 A guy Bucs fans know well is paid handsomely to watch every quarterback every week and break down his performance.
That guy is former Tampa Bay quarterback Bruce Gradkowski. For three or four years Gradkowski has been collecting a check from the PFF Tribe, aka ProFootballFocus.com, to evaluate QB film so tribesman can sell his work.
Gradkowski also co-hosts on SiriusXM NFL Radio. And while Joe finds him a little boring and annoying, Joe always pays close attention when Gradkowski is talking quarterbacks … because he knows what the heck he's talking about.
On his radio gig this week, Gradkowski was ranking QBs and breaking them down. And the fun thing is that Gradkowski says there's literally nothing to nitpick on Brady's 2021 game. Sure, Brady makes mistakes, but Gradkowski talked about how uncanny it is how quickly Brady will adjust successfully.
More interesting to Joe, however, was Gradkowski diving into how Brady is "still explosive" dropping back to pass from under center. No loss of athleticism in his legs and posture, per Gradkowski, and Brady's pocket movement is still elite.
There are plenty of Brady doubters every year since he turned 37, and Joe gets the skepticism, especially now at age 45. But if you really break down Brady, he's not showing age.
As former Bucs head coach and Falcons playcaller Dirk Koetter explained last year, the eye test on Brady reveals a quarterback getting stronger with more zip on his fastball.