Raiders Clearing Cap Room For Ndamukong Suh?
May 29th, 2022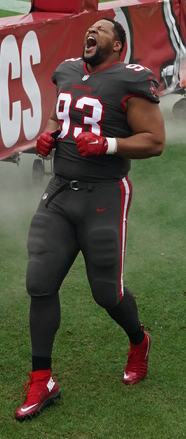 There are various rumors out there regarding free agent Ndamukong Suh's next stop. Joe has ignored most of them but this chatter comes from a legitimate Raiders beat writer and author.
Paul Guttierrez typed a whole piece for BSPN about what the Raiders will do with the bucket of salary cap room coming their way on Wednesday.
That's when $20 million of NFL monopoly money falls in their lap because they cut Carl Nassib and Cory Littleton in March with a June 1 cap designation.
Guttierrez thinks the Raiders are an ideal landing spot for Suh, where he can complete a star-studded defensive front.
…  … Sure, Suh is 35 and the five-time Pro Bowler's best days are behind him, but he has not missed a game since 2011 and has missed only two in his career. Suh had six sacks in each of his past two seasons, with 32 combined QB hits. Teaming him with ]Bilal] Nichols, who has eight sacks combined the past two seasons, to collapse the pocket from the interior would free up defensive ends Maxx Crosby and Chandler Jones.
Suh is no dummy. He knows life on the Raiders line wouldn't send a mountain of double teams his way, and Las Vegas is a high-profile team in a high-profile division, and Suh presumably would like the spotlight for his current and future business interests.
Vegas isn't the place to go if you're chasing a ring, but it might be if your goal is one last check, good weather and linemates.