Inside The Ronald Jones Departure
May 21st, 2022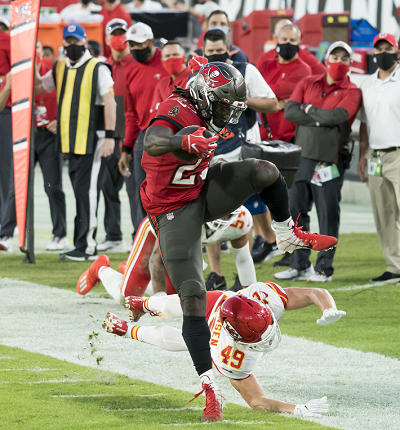 It's the time of year that Joe can relax, crack open a Big Storm beer and dive into the fantasy football world to prepare for August.
And sometimes the exercise leads to Joe learn more about our beloved Bucs.
Lots of fans and pundits like to ramble about how much more the Bucs will check the ball down and/or throw to running backs with Tom Brady on the roster.
Well, that hasn't happened in any significant way.
The fantasy site 4for4.com dove into the numbers and produced the graphic below that explains how often the Bucs throw to running backs. It's obvious that the needle has moved little since Brady arrived — and his influence within the offense grew.
| | | | |
| --- | --- | --- | --- |
| 18 (pre-Arians/Leftwich) | 14.3% (31st) | 88  targets | Jacquizz Rodgers (45) |
| 2019 (pre-Tom Brady) | 19.3% (19th) | 116 | Dare Ogunbowale (46) |
| 2020 | 19.8% (13th) | 120 | Leonard Fournette (47) |
| 2021 | 20.0% (17th) | 134 | Leonard Fournette (84) |
So what does that all mean? Well, for starters it lays out how beastly the Bucs' receiving/tight end corps has been. Tampa Bay led the NFL in passing yards and passing attempts, and that ball was going to receivers/tight ends at a high rate, even in the face of injuries.
Also, as 4for4.com detailed with data, it could mean former Bucs running back Ronald Jones was so deficient in the passing game the Bucs were held back in that area and rookie third-round pick Rachaad is poised to thrive.
Whatever it all means, nobody can really claim Tom Brady likes to throw to running backs more than Bucco Bruce Arians and Byron Leftwich.