A 15-Win Prediction For The Bucs & Overmaster Tom Brady
May 21st, 2022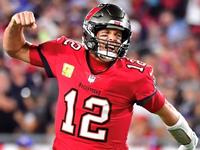 Joe does not believe in NFL coincidences. Therefore, it's currently difficult to fathom the Bucs winning less than 12 games this season.
In each of last 12 years that Tom Brady has quarterbacked a football team, that team has met or exceeded the oddsmakers' projected season win total for that club.
CBS Sports HQ did the research and it made for a damn impressive display.
Last year, the Bucs' over/under win total was a whopping 12 games. They won 13. In 2020, the line was 9 1/2 and the Bucs won 11. Only twice since 2010 has a Brady team "pushed" (tied) its over/under betting line. For the 10 other seasons, Brady's club hit the "over."
That included seasons in which the Patriots played in a stronger-than-usual AFC East and dealt with various injuries to big-name players. So would would any fan in his right mind bet the under, wagering that this is the year Brady falls short?
The consensus over/under line for the Bucs this season is 11 1/2 wins.
Retired NFL QB Brady Quinn is a top CBS analyst and he's very bullish on the Bucs winning 12 or more. Quinn loves how the Bucs got their toughest matchups scheduled in Tampa — home games at The Licht House against the Packers, Chiefs and Rams.
Quinn also is a big believer in Todd Bowles and in what Byron Leftwich has accomplished. And Quinn is down on the Falcons and Panthers, and he thinks the Saints will feel the loss of their head coach and playcaller Sean Payton more than many people think. He's also not sold on Jameis Winston thriving through a 17-game season while coming off an injury.
Quinn's season prediction for the Bucs? "I got'em at 15-2. … I don't see many roadblocks."
Yes, you read that correctly.