"I Don't Want To Be Taken Off The Field For A Weakness In My Game"
May 5th, 2022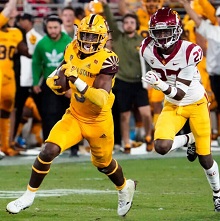 Joe already wrote about how rookie Bucs running back Rachaad White could be the anti-Ronald Jones.
That was based on film and data, but White even sounds like he's no RoJo.
"I'm the type of competitor, type of guy, a playmaker, that I don't want to be taken off the field for a weakness in my game," White told The Jim Rome Show yesterday. "So I make sure I have no holes in my game. No weakness. And I do everything to the best of my ability, and the receiving part of it is, you know, a great aspect."
Tampa Bay's third-round pick last week went on to say he's always seeking to stand out through greatness in all areas. "Being able to separate yourself, being different from other running backs in the league and other running backs that I was coming out with."
The Bucs see White as a running back who is very different than any on its roster, which is very intriguing. Joe will have more on that later today.