FOX VP Explains How Tom Brady Impacts NFL Schedules
May 14th, 2022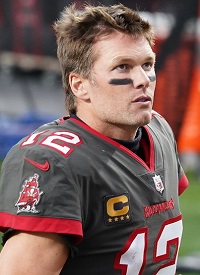 A FOX big shot shared how the network has what it calls an "A.B.C." strategy for its NFL programming, and how crafting the NFL schedule essentially became four times more difficult in 2022.
That "A.B.C." strategy, per FOX Sports executive vice president of strategy of analytics Mike Mulvihill, is all about two players and a team.
"A for Aaron, as in Rodgers, 'B' is for Brady, C is Cowboys," Mulvihill told The Herd on FS1 this week.
Tom Brady and Rodgers are so huge with a national audience, this year all networks carrying the NFL had to submit four wish lists of 2020 games just before the February Super Bowl, Mulvihill explained.
Each network needed to provide its preferred games under scenarios if Rodgers retired, if Brady retired, if neither retired, and if both returned for 2022.
Interestingly, Mulvihill said the Super Bowl champion Los Angeles Rams are a lesser "brand" than Brady and the Bucs, but this year they're a nice fourth power hitter for the network.
Mulvihill added that the Russell Wilson trade to Denver threw a curveball into schedule-making but Wilson is not on par with the A.B.C. crew.
The quality of the Bucs' opponents is really going to drive interest in the team, the FOX exec noted, calling Tampa Bay's schedule exceptional how it includes a lot of "good brands" including the Packers, Cowboys and Rams along with the Steelers and Browns.
This will be the highest-profile Bucs regular season in history, Joe believes. And it starts with hype leading up to the Bucs at the Cowboys on Sunday Night Football. That game will kick off a level of Bucs attention that will not wane.
Mulvihill added that the Chiefs at Bucs game in October went to NBC because FOX got the Dallas-Green Bay game — sort of a way to keep things fair.
The Bucs sure have come a long way.
Would Tampa Bay have gotten more than two primetime games this season if their starting quarterback was Blaine Gabbert or Kyle Trask? Doubtful. They ended up with five. The Saints have three, including one in Tampa.