Dee Delaney: Coaches Tell Bucs Defense Not To Intercept Tom Brady In Practice
May 14th, 2022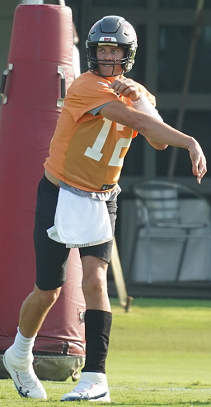 Joe wonders who gives this order and whether Tom Brady was/is aware of it.
Veteran Bucs backup cornerback Dee Delaney, who made two starts last season, says picking off Tom Brady in practice is often frowned upon by Tampa Bay coaches.
Yes, seriously.
Delaney dropped the news as a guest on the Saturday Morning Inspection YouTube show.
Delaney was asked if he ever intercepted Brady in practice.
"No. Hell, we don't really (pause) I mean, you can be close to the ball but they really don't want you to intercept the ball from the offense. You know, I guess they're trying to get their timing down with the quarterback and the receivers," Delaney said. "So it's more about the offense than the defense [in practice]. … It's more about Brady getting his groove and everything back. So you don't really think too much about it."
The surprised Joe, but perhaps its somewhat commonplace? Joe is curious to hear readers' take. Maybe it's a Tom Brady thing?
Obviously, there are times in training camp when players in coverage are trying to pick off passes if the opportunity is there.
Regardless, the edict sounded like something new to Delaney, who has been with the Jets, Dolphins, Jaguars and Washington when they were the Redskins.