Antoine Winfield Offers A Scouting Report On Russell Gage
May 17th, 2022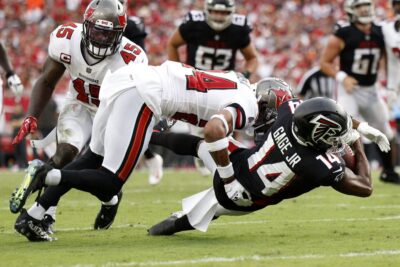 Who better to ask about new Bucs free agent receiver Russell Gage than a guy who had to cover him and gameplan for him.
The Bucs paid the former Falcons receiver big money, $10 million per year, to be their No. 3 receiver. But more important, Gage will be the Bucs' No. 2 until Chris Godwin returns from knee surgery recovery.
Gage served as a No. 1 and No. 2 receiver in Atlanta, and the No. 3.
Bucs Pro Bowl safety Antoine Winfield, Jr., was very enthusiastic today about Gage when asked about him by The Sage of Tampa Bay Sports, Ira Kaufman.
"I think he's a perfect slot for our system, being in that slot receiver position," Winfield said of Gage. "Playing against him, he's tough in there. So I think we're going to utilize him just fine in that area. He's smart. He has good routes. He's shifty. He's crafty. I like his game a lot. Very versatile."
The Packers, Cowboys, Chiefs and Saints — the Bucs' first four opponents — all have new big-name receivers on their rosters, replacing other big names like Amari Cooper, Tyreek Hill and Davante Adams.
If Gage can adjust and fit in faster than all of them, the Bucs will be in very good shape.
---
Miss it yesterday? Enjoy it today. It's another can't-miss Ira Kaufman Podcast!
Ira Argues A 3-1 Start Versus A 2-2 Prediction, Talks Reality Check On Tom Brady's Future, A Mike Evans Question, Luke Goedeke Fit & Much More