Tom Brady Restructures Contract; No Word On Extension
April 22nd, 2022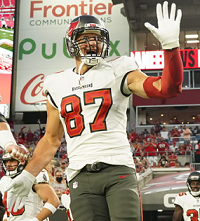 Joe's calling this "Gronk prep."
ESPN is reporting that Tom Brady has restructured his contract to give the Bucs $9 million in addition salary cap space for 2022, about what it'll cost to bring Rob Gronkowski back for one more season. Tampa Bay entered today about $4 million under the cap but needing about $7 million to sign its draft class.
Adam Schefter broke the news, but Schefter did not say the accounting move — that no doubt kicks cap compliance down the road — includes a 2023 contract for Brady. Schefter only noted that Brady is scheduled to be a free agent in 2023.
Joe sure hopes this is step toward the Bucs dropping a can't-refuse contract on Brady for next season.
Enjoy Today's Ira Kaufman Podcast.