The Next Succession Plan & A Pile Of Chips
April 14th, 2022
BY IRA KAUFMAN
Jason Licht's job description doesn't include the phrase "tightrope walker," but maybe it should.
In his ninth year as GM of the Bucs, Licht is treading a fine line at the moment, facing a challenging balancing act that requires both short-term focus and proper foresight.
As the overseer of football operations at One Buc Place, Licht is acutely aware of the franchise's heightened sense of urgency.
Tom Brady is back, along with the lofty expectations that surround any team with No. 12 under center. As Tristan Wirfs put it so eloquently on Tuesday, the window is open again now that Brady has ended a brief retirement.
Within a week of Brady's return, the Bucs traded for veteran guard Shaq Mason and signed wide receiver Russell Gage as a free agent.
Coincidence? Hardly.
Mason and Brady were former teammates in New England while Gage acknowledged that Brady actively recruited him to Tampa. You can bet Brady is now working hard on Rob Gronkowski, hoping to convince the future Hall of Fame tight end to come back for one more Super Bowl run.
The temptation to load up this roster with veterans is understandable.
This has the feel of Brady's final season in a Buc uniform. He is not obligated to Tampa Bay past 2022 and as much as Licht would like to extend Brady's contract, it hasn't happened.
With Brady back aboard, the Bucs are now the favorites to represent the NFC in the Super Bowl, ahead of the defending champion Rams. It's easy to understand a short-term strategy that maximizes this team's chances to win it all this fall. But there's a flip side to the agenda that many Buc fans simply don't want to think about — the idea of life beyond Brady and all that entails.
There are some danger signs for those willing to look beyond the upcoming season. For example, 14 of the 67 players on the current roster are 30 or older.
That may not seem like a big number, but by NFL standards, it's huge. And if Gronkowski and Ndamukong Suh return, that number would swell to 16.
The 2022 Bucs could feature seven starters at least 30 years old — Brady, Gronkowski, Ryan Jensen, Will Gholston, Suh, Lavonte David and Logan Ryan. Once again, we see a graphic example of The Brady Factor.
In 2019, Jameis Winston's final season under center, Suh and Demar Dotson were the only Buc starters 30 or older.
There's another way of looking at the seasoning of this franchise. In 2019, the average age of Tampa Bay's 53-man roster heading out of training camp was 25.4, the second-youngest in the league behind Miami.
A year later, with Brady aboard, that average age grew to 26.3, the seventh oldest mark in the NFL. In 2021, the number was 26.7, the third oldest in the league.
Once Brady departs, Tampa Bay's future will be in the hands of players entering their prime — Wirfs, Vita Vea, Devin White, Chris Godwin, Carlton Davis and Antoine Winfield. Perhaps Joe Tryon-Shoyinka will emerge as an additional cornerstone piece.
Unlike so many other teams, these Bucs aren't building toward something … they're already there. They're all-in and no Buc fan is thinking about 2023.
But part of Licht's responsibility is creating a blueprint for long-term success. If this is indeed Brady's final fling in Tampa, the Bucs need a succession plan at the game's most important position.
They need fresh young bodies at tight end and the defensive line and a potential replacement for David, who turns 33 next January.
Those issues seem far off, but they're not. Licht thinks about them every day — even as he pushes chip after chip onto the 2022 pile.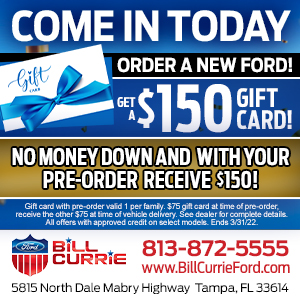 Enjoy the latest Ira Kaufman Podcast!